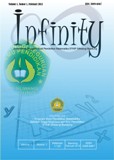 Journal Description
Infinity Journal is a peer-refereed open-access journal which has been established for the dissemination of state-of-the-art knowledge in the field of mathematics education. This journal is founded under the collaboration between the IKIP Siliwangi and Indonesian Mathematics Educators' Society (IMES). All submitted manuscripts will be initially reviewed by editors and are then evaluated by a minimum of two International Reviewers through the double-blind review process. This is to ensure the quality of the published manuscripts in the journal.
The Infinity Journal welcomes high-quality manuscripts resulted from a research project in the scope of mathematics education, which includes, but is not limited to the following topics: Mathematics Ability, Realistic Mathematics Education, ICT in Mathematics Education, and Design/Development Research in Mathematics Education. The manuscript must be original research, written in English, and not be simultaneously submitted to another journal or conference.
---
Journal Information
---
---
---
Editorial Process
---
---
Before Submission
---
The author has to ensure the manuscript has been prepared using Infinity Template following the author guidelines. The single author's paper is just for the invited author or the author with a great reputation for research or publication in mathematics education. The manuscript should also have been carefully proofread and similarity checked (the proofreading certificate and similarity check result must be attached as a supplementary file in the submission process). Any manuscript which does not meet the author's guidelines, focus, and scope, is written in a different format, or has poor soundness of English will be immediately rejected. The only manuscript which meets the Infinity standard will be processed further.
Registration
and
login
are required to submit items online and check current submissions' status.
---
Vol. 12 No. 2 (2023): VOLUME 12, NUMBER 2, INFINITY
Infinity Journal Volume 12 Issue 2 (September 2023) has been available online since June 14, 2023, for the regular issue of September 2023. All articles in this issue (13 research articles) covers 55 authors from 8 countries of origin (Indonesia; Philippines; Taiwan; South Africa; Czechia; Malaysia; Brunei Darussalam; and Iraq).
Published: Jun 14, 2023
View All Issues